VP9GE


Ed Kelly




Data policy

1 Tarrafal Drive, Hamilton CR 04, Bermuda

-

Voice: 441-293-2525 Fax: 441-295-3559 | Maidenhead locator: FM72pi Location: 32.350N, 64.720W





BERMUDA

British Overseas Territories (BOT)

With the return of Hong Kong to China, Bermuda became the most populous of the remaining fourteen BOTs with ~ 60,000 inhabitants occupying 53.3 square kilometres.

Of the BOTs, Bermuda is the most advanced constitutionally and has the oldest parliament outside Westminster.

With an annual GDP of over $94,400 (2018), Bermuda is the most prosperous of the BOTs and even foots the bill for Her Majesty the Queen's representative, The Governor of Bermuda.

Bermuda is self-financing and requires no aid from Whitehall.

Communications

Bermuda has always been an important point in the world of communications, ensuring that the technology is advanced. There are multiple fibres running between the island and the outside world. These carry all the internet and voice traffic for the island and other Trans-Atlantic customers.

Telephones work exactly like American 'phones. They ring with single rings (unlike the UK which has double). Bermuda has it's own Area Code (441) which works just like it would in the USA. Local calls are nnn-nnnn. International calls are made as though you are in the USA. Dialling Tampa FL means using 1-813-nnn-nnnn. Emergency number is 911, not 999.

Power

Power is exactly the same as American power - 120VAC/60Hz

. Most modern equipment will run from 100-250VAC and 49-61Hz using switched mode power supplies (computers, tablets, etc.).

Most outlets are 3 pin with the small and large L/N pins

. In older homes, two pin with equal size pins may be found!

Coral Reef

Bermuda is the northernmost coral reef in the world. The Islands are not in the Caribbean but are in the North Atlantic Ocean 917 km east of Cape Hatteras, North Carolina, USA., and 1287 km north of the nearest West Indian Island.

Weather Summary

Bermuda has a mild sub-tropical climate. Temperatures in the Summer can be quite high.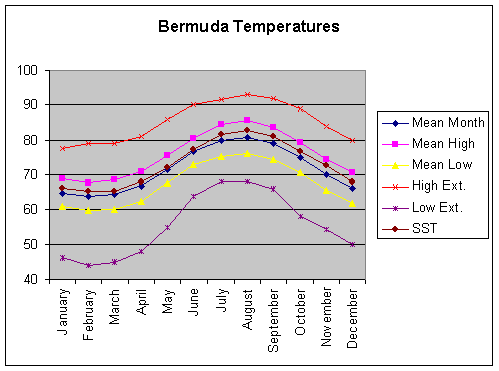 Showers occur frequently in Bermuda. A good "wind cheater" or umbrella is good to carry.
Very popular (for a reason) are the Bermuda lightweight jackets. You'll see visitors and locals wear them.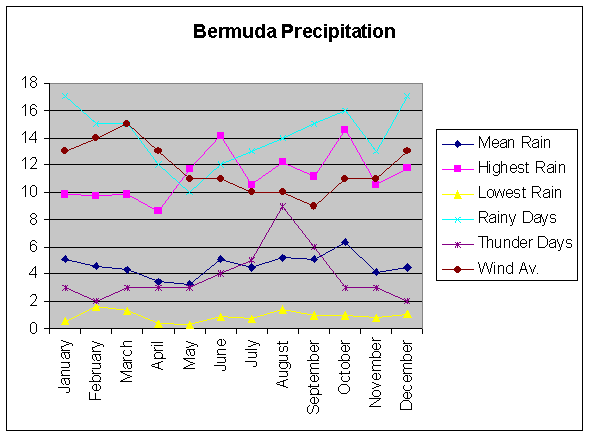 Bermuda Triangle
The Islands of Bermuda are considered to be the apex of the Bermuda Triangle.
From Grolier's Encyclopaedia we learn "The Bermuda Triangle, also called the Devil's Triangle, is an area of the Atlantic Ocean off southeast Florida, where the disappearance of ships and airplanes on a number of occasions has led to speculation about unexplainable turbulences and other atmospheric disturbances. Violent storms and downward air currents frequently occur there, but studies have not revealed any significant peculiarities about the area in question.
Boundaries of the Bermuda Triangle have been formed by drawing an imaginary line from Melbourne, FL, to Bermuda, to Puerto Rico, and back to Florida. These apparent boundaries vary widely, however, among writers trying to establish a Bermuda Triangle "mystery" by incorporating farther-ranging disappearances in their accounts."
Islands of Bermuda
Anthony Trollope visited Bermuda in 1858 and stated: "Everyone, of course, knows that there are 365 of these islands, all lying within 20 miles in length and three in breadth".
Terry Tucker in The Islands of Bermuda (1970) lists 172 names "worthy of being recorded".
British-born author Dr. John J. Jackson (Islands BERMUDA (1988)) does not disagree with a count of 365 but suggests "this is because there are islets, rocks, banks and shoals which may or may not always be counted or seen."
G. Daniel Blagg has published (Nov. 1997) Bermuda Atlas & Gazetteer which greatly expands on the works of earlier authors and provides over 280 pages of text, maps and paintings. With this book one can travel from Abbott's Bay to Zuill's Park and to all points within and around the Islands to count the islands for themselves.
Argus Island
Argus Island is worth mentioning since in 1962 it was the newest island in the world. It was built at a cost of $1,500,000 on a submarine cone 30 miles south-west of Bermuda. The Office of Naval Research (USA) built the 10,000 square foot facility for Projects Artemis and Trident. Sealab-I was placed on the ocean floor 200 feet below the surface at Argus Island and provided underwater living for four men for the nine days of the experiment in July 1969.
In the gales of 1962 Argus Tower (as it was known to Bermudians) was buffeted by 60-foot waves while seven men were in residence. The Island was demolished in 1975.
Water in Bermuda
Bermuda's roofs make for a pretty landscape. However, the lime washed roofs are the only source of water on the island. "Share a shower" and "Share a flush" are common necessities. Visitors to the island are asked to be careful in the use of water. Some deep wells exist, but buying water from them and having a tanker deliver the water is very expensive.
Go-at is our lawn mower
Go-At (on the right here) keeps the grass down on our land infront of the house. She has her own house. Unfortunately, she sometimes eats the wrong food - our food! Seen here with VP9KF/2 being given her morning or afternoon treat of brown bread. Unfortunately Go-At passed away on 13th September, 2006 an apparent victim of Hurricane Florence. Her successor also passed away. Have no fear, there is a new Go-at!

Stuff about Buses:

Bus stops are marked by shelters and/or poles. If the pole is pink this indicates that the stop is for buses heading into Hamilton; whereas if it is blue, the stop serves buses heading away from Hamilton.

Buses stop by request only i.e. if someone is waiting at the stop (if you don't want it to stop, wave it on) or somebody requests that the bus stops by pressing one of the buzzers onboard. If asked, most bus drivers will gladly announce a visitor's destination on arrival. Let those leaving the bus do so, before trying to get on board.

When boarding the bus it is considered polite to greet the bus driver; especially before asking for information. Visitors may notice that many Bermudians greet not only the driver but will say a cheerful 'good morning' or 'good afternoon' to their fellow passengers.

Costs for Bus and Ferry Passes (combined):

1 day pass $19
2 day pass $31.50
3 day pass $44
4 day pass $48.50
7 day pass $62
One month pass $69
3 month pass $169

These can be bought at the main bus terminal in Hamilton or at any Post Office (inc. Crawl PO near Marketplace, Shelley Bay).

Flora at Tarrafal

Longtail (click photo)

---
This site hosted by Hintlink Technology, Swannanoa, NC. Webmaster: Paul Evans, VP9KF
© 1997-2022 Ed Kelly. All rights reserved.