Tarrafal Apartments (# 5 and # 7)
e-mail (for bookings, enquiries):



AIRMAIL for bookings and sending deposits:




(NOT seamail or regular domestic mail)




Tarrafal Apartments,




P. O. Box 1555, Hamilton HM FX, Bermuda.





Directly on

bus routes 10 and 11, these are comfortable, air conditioned apartments designed for singles or couples.

No. 5 is a large bed-sitter and No. 7 is a one-bedroom apartment. Rates on request. Maid service is extra.

A two night deposit is required and may be paid by personal check. The balance is to be paid on arrival either in cash or by traveller's cheques. No credit card transactions.

At this time, some space is available but bookings are being made daily and are accepted on a first-come, first-served basis. Rates are very reasonable.



Each unit has air-conditioning providing both heating and cooling.




The bedroom area has extra-large closet, sheets and pillows.




Each bathroom has a tub, shower and towels.




Both full kitchens have a stove, fridge, microwave, toaster, pots and pans.




The dining area has china, glasses and flatware.




Each unit has a laundry facility with a washer and dryer, iron and board.


Additionally, there are several lawn areas with ocean views and lawn furniture.

Free transportation from and to L. F. Wade International Airport (BDA) and to a nearby beach.

FM / AM radios provided. Cable TV is $5 per day for 50+ channels.

Please note that our rates include all taxes.

---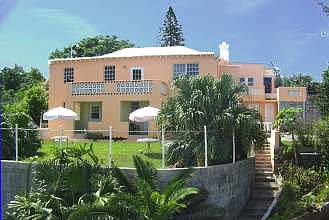 Tarrafal Apartments, Hamilton Parish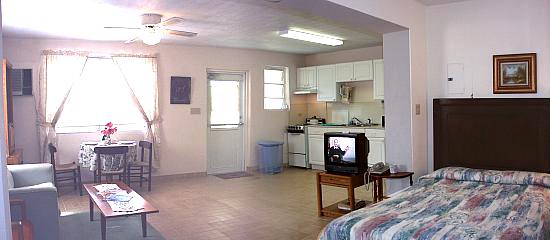 Apt. No. 5 - Bed-sitter with bath
Apt. No. 7 - Bedroom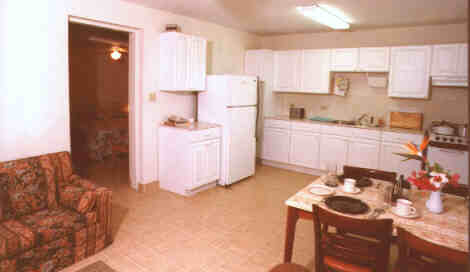 Apt. No. 7 - Kitchen & Dining Area