VP9GE


Ed Kelly




Data policy

1 Tarrafal Drive, Hamilton CR 04, Bermuda

-

Voice: 441-293-2525 | Maidenhead locator: FM72pi Location: 32.350N, 64.720W

---
John, OH3SR/VP9
(November 2007)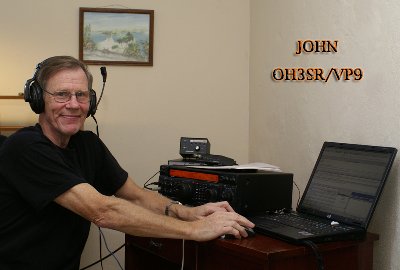 ---
During my holiday weekend operation I worked abt 1100 QSOs to112 countries using CW, SSB and RTTY.
I was happy to give 600 new multipliers in CQ WW CW. I was the only VP9 outside of 20 meters.
On RTTY I worked abt 500 QSOs and was so sorry to go QRT in the middle of RTTY pile up, but next time.
I have never heard 160 m to be as good as it was from your QTH. No QRM no QRN.
Especially I was very surprised I heard East and North Europe already long before my sun set.
Regards to you and yours and don't forget my friend (Go-at) on backyard
John OH3SR
---